If you've been to the Lounge, you know we love our classic TV shows – they're up and running on the Lounge TV daily.
But what about those Cinematic Darlings Of Yesteryear?
Never Fear, Starlite Lounge Is Here!
Every Friday evening from 4:30 – 6:30pm we turn the Starlite into your own semi-private Movie Lounge!
Complete with house-made tapas treats from our "snack bar," along with our weekly specials and regular menu items.
And of course, our wonderful Central Coast Wines, Craft Beers, and Sodas to add to your viewing experience.
So come on down, set a spell, nosh, drink and enjoy and…
We'll see YOU At The Movies!
Our Friday Movie Night is also the perfect time to come and do the Classic Dinner & A Movie with your sweetie. You are welcome to skip the movie and come for your romantically-lit dinner from 6:30pm on, and if you'd like to view our Classic Movie Showcase first, come at 4:30pm and watch the show before getting your grub on!  In that case, you could say it's a Classic Movie and A Dinner, but let's not quibble.
In DECEMBER, it's all about ringing in the Holiday Season!

December 7 – "We're No Angels" (1955)

In 1955, two key talents of the Warner Brothers studio system collaborated for the fourth time; actor Humphrey Bogart and director Michael Curtiz. Their first effort for the studio resulted in Angels with Dirty Faces (1938), a picture that cemented Bogey's reputation as the "No. 1 Bad Boy." Casablanca followed in 1942, capturing the Best Director Oscar for Curtiz and securing film immortality. And their third collaboration was Passage to Marseille (1944), a combination war film and prison escape thriller. So it only makes sense that their final film together would be . . .a light holiday comedy?
Curtiz and Bogart picked We're No Angels (1955), a story of three escaped convicts from Devil's Island, that was based on the French play La Cuisine des Anges by Albert Husson. An atypical outing for both Bogart and Curtiz, We're No Angels begins with the prison escapees planning to rob and murder husband and wife shopkeepers. However, they quickly reason that "cutting their throats might spoil their Christmas," so the men decide instead to get the financially unstable store back on track by fixing the place up and bringing in more customers. As business begins to boom, Andre Trochard, the owner of the store, arrives on the scene with some greedy schemes of his own. Throw in a deadly snake named Adolph (one of the convict's pet), and the fun begins.
December 14 – "The Lemon Drop Kid" (1951)

Jay Livingston and Ray Evans needed a hit. The songwriting duo at Paramount hadn't written any salable music in a while, and their six-month renewable contract would lapse pretty soon if they couldn't come up with a tune. Worse yet, their bosses had requested a Christmas song, one of the most crowded and overdone genres of popular music. They were stumped until one of the men noticed a tinkly little bell on their shared desk. They started brainstorming lyrics: "Tinkle bells, tinkle bells. It's Christmas time in the city."
"Silver Bells" (wisely renamed after Livingston's wife pointed out that "tinkle" was kiddie slang for "urinate") is unique among Christmas songs in that, instead of the nostalgic rural setting described in "Jingle Bells" or "O Christmas Tree", it's set in a modern, urban milieu of "busy sidewalks" and "strings of street lights". It's a perfect fit for the tough yet sentimental The Lemon Drop Kid (1951), a holiday movie based on a story by literary tough guy Damon Runyon.
Runyon, a newspaper man whose stock in trade was gritty chronicles of Prohibition-era New York, had his work adapted previously for the screen in Little Miss Marker (1934) and its remake Sorrowful Jones (1949). Bob Hope had earned critical applause for his role in that remake, and he was ready to try a Runyon story again, with the same director Sidney Lanfield, this time playing a glib con man who conjures up a comical scheme involving street-corner Santas as a way to pay off a scorned gangster.
As usual, Hope took an active role in production, insisting on casting unknown Marilyn Maxwell as the female lead because he liked her comic timing and screen sex appeal. "I worked with her in New York," Hope told studio brass. "She's good. I want her and that's enough for me." (It also helped that he and Maxwell were having a clandestine affair, a personal and work partnership that lasted through many movies, tours, and TV specials.) He also complained to studio president Barney Balaban that Lanfield's cut of the finished film was lacking. Not only did Hope feel he'd been slighted on screen time, but Lanfield missed the sentimental angle that was crucial to Sorrowful Jones' success.
One particular sticking point was the "Silver Bells" number. In the original staging, Lanfield simply stood all the cast members shoulder to shoulder in the shady interior of a vacant casino, in what Hope biographer Lawrence J. Quirk described as "in the manner of a Hollywood choir." Hope knew the "Silver Bells" number had the makings of a showstopper. He'd previously done well with "Buttons and Bows", another Livingston/Evans tune performed by Hope in The Paleface (1948). (That song earned the songwriting duo the first of three Academy Awards). Besides, his "road movie" pal Bing Crosby had just recorded a version of the song with Carol Richards. Hope, not to be upstaged, recruited joke writer Frank Tashlin to rewrite the scene. Tashlin drove a hard bargain. He'd labored in Hollywood for years as a gagman and was hungry to direct his own movies. He wanted to direct the scene, and Hope agreed. (Lanfield was so incensed to learn that Hope had ousted him that he never worked with the comedian again.)
Tashlin's revision wisely moved the scene to a busy shopping thoroughfare in the city, using the song to link vignettes of urban good cheer. Hope, dressed in a ragged Santa costume, strolls arm-in-arm with Maxwell through the lightly falling snow as kids eye toys in store windows, peddlers sell chestnuts and mistletoe, and shoppers smile at all the holiday decorations. The number ends on a wide shot of a snow-kissed metropolis, the light in every skyscraper window twinkling like a star.
Tashlin went on to direct Technicolor comedies like The Girl Can't Help It (1956) and Will Success Spoil Rock Hunter? (1957), while Livingston and Evans were forever grateful for the royalties earned by their now-classic Christmas song, a perennial tune that's sold over 500 million records and been covered by everyone from Stevie Wonder to the Chipmunks to Twisted Sister. But while audiences enjoyed a cozy Christmas in theaters, the perennially restless Hope was already on the road. The first day of shooting for The Lemon Drop Kid was also the first day of the conflict that became The Korean War. In between squabbles, rewrites, and reshoots, Hope was also busy organizing the biggest USO show to date – 50 entertainers, including a radio crew and every member of the Les Brown big band – for troops in the Pacific, a Christmas tradition that would continue until 1995, when Hope retired from military touring at the age of 92.
December 21 – "White Christmas"

It may not have raked in as much money as How the Grinch Stole Christmas or generated as much love-and-hate as Love Actually, but White Christmas remains one of the most popular holiday movies of all time. We take a look at some of the surprising stories behind the 62-year-old favorite.
1 "Sisters" wasn't part of the script. 
Bing Crosby and Danny Kaye's comedy act "dressed up like a dame" wasn't originally in the story. They were goofing around, though, and director Michael Curtiz found it so funny that he wrote it in. Apparently, the actors found it hilarious, too: The laughing during the number is real. The take in the film was the best one they could get of the two, who kept cracking each other up.
2
It's the third time Bing sang "White Christmas" on screen
.  The title track was originally performed by Bing Crosby 13 years earlier, on the radio show
The Kraft Music Hall
. Then, he sang it in Irving Berlin's 1942 classic,
Holiday Inn
(above), as well as
Blue Skies
in 1946. This one is still our favorite, though.
3
There are some shocking age differences.
  As Betty Haynes, Rosemary Clooney plays Vera-Ellen's older sister in the movie, but she was actually seven years younger. When the film came out, Clooney was 26, and Vera-Ellen, 33. Even more striking? Bing Crosby, who plays her love interest, was 51 when the movie debuted. That's a 25-year-age gap! (It's also funny to note that
Dean Jagger
, who played the retired, elderly general was actually born a few months
after
Crosby.)
4
The Vermont inn doubled as "Holiday Inn," too.
  General Waverly's Columbia Inn in fictional Pine Tree, Vermont, made it's debut a decade before, in
Holiday Inn.
The set on the Paramount lot was refurbished for the next Christmas classic.
5
Vera-Ellen didn't actually sing any of the songs.
When the character Judy Haynes sings, the parts were all recorded by costar Rosemary Clooney or singer Trudy Stevens. The only time Vera's real singing voice is heard is when they disembark the train in Vermont and the quartet sing the opening lines of "Snow."
6
But she sure did all her own dancing!
  Vera-Ellen started dancing at age 10. And at 18, she had become one of the youngest Radio City Rockettes, performing in several Broadway shows before heading to Hollywood. Fun tidbit: Growing up in Norwood, Ohio, a suburb of Cincinnati, she carpooled to dancing classes
with Doris Day
!
7
This dancer went on to big things.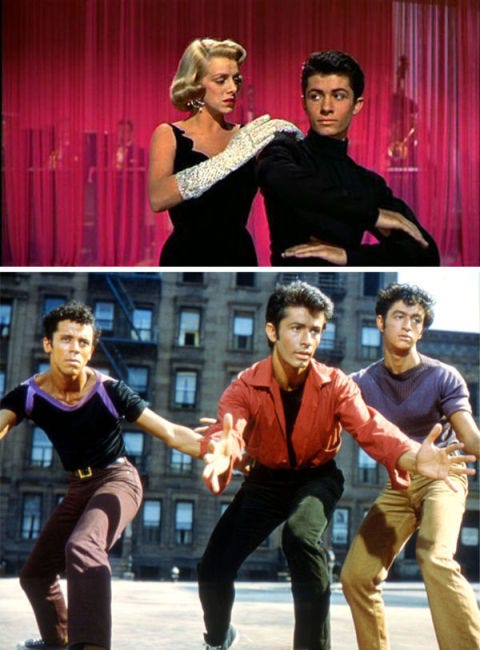 Getty ImagesParamount + Silver Screen CollectionThroughout the film, dancer George Chakiris accompanies the Haynes sisters in an uncredited role. But soon after, he received the credit he was due: He later won an Academy Award for Best Supporting Actor as Bernardo in West Side Story.
8
It wasn't originally about snow.  In
the club car of the train, the four leads sing "Snow" about their frosty dreams. Originally, the Irving Berlin tune was called "Free," for the musical
Call Me Madam
— and it had nothing to do with winter.
9
Fred Astaire was supposed to play Phil Davis.
After Astaire and Crosby's success in Holiday Inn, this film was intended to reunite them. But Astaire had "retired" by the time White Christmas was shot 12 years later and he declined. Then, the part was offered to Donald O'Connor (known for
Singin' in the Rain
) but he pulled out after an illness. Then, the part was reworked for Danny Kaye.
10
Bing Crosby made up most of the liverwurst sandwiches and buttermilk.
The iconic scene when Bob tells Betty his theory of what foods cause which dreams was almost completely improvised, according to Rosemary Clooney. (Then, he launched into "Count Your Blessings" and we stopped caring that buttermilk with liverwurst sandwiches sounds absolutely vile.) In fact, much of Bob's dialogue was based on Crosby's own conversation. So thank him for gems like, "weirdsmobile."
11
You've seen "Benny Haynes" before.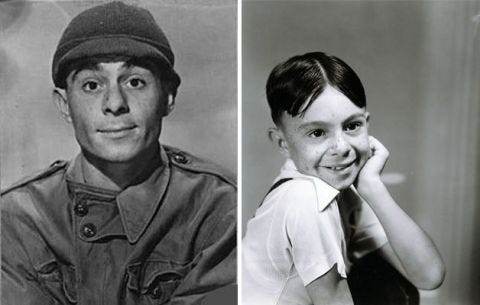 When Bob looks at a picture of Benny Haynes, "The Dog-Faced Boy," it's actually an image of a grown-up Carl Switzer. He's best remembered for playing Alfalfa in the original Our Gang, also known as the The Little Rascals.
12
Bob Fosse was the uncredited choreographer.
Yes. Long before his sizzling moves appeared in films like
Cabaret
,
Chicago
, and
All that Jazz
, a young Fosse sent Vera-Ellen spinning and tapping across the stage.
13.  The Costumes were designed by an icon.  Designer Edith Head was already an Oscar-winner by the time she worked on White Christmas. Throughout her life, she won eight Academy Awards for costume design — more than any other individual in that category — for classics like The Sting, Sabrina, and Roman Holiday.
14
You'll never see Vera's neck onscreen.
15
Berlin changed lyrics for Bing.
The song "Gee, I Wish I Was Back In The Army" has a lyric about seeing "Jolson, Hope And Benny all for free" — reference to wartime entertainers Al Jolson, Bob Hope, and Jack Benny. The original words were "Crosby, Hope and Jolson all for free," but when Bing Crosby was cast, leaving it as-is would break the fourth wall. So meta.
16
There's no "official" soundtrack.
The soundtrack rights for the film were controlled by Decca, but Rosemary Clooney was under exclusive contract to Columbia, a competing record label. So in 1954, Decca recorded and released an album with the movie cast minus Clooney (her part was sung by Peggy Lee). And Columbia released an album with Clooney singing eight songs from the film, which means the only way to hear her sing with Bing is onscreen!
17 
They reshot the ending — without film.
After the final shot wrapped, the actors were told that they needed to redo the finale, Rosemary Clooney recalled in the DVD extras. The King and Queen of Greece were visiting the set and the producer hoped to "give them something to remember." So the entire scene was "reshot" — but without film in the camera or Bing Crosby, who had already left to play golf.
18
It was a box-office success.
The movie brought in $12 million, and was a top-earner in 1954, second only to
The Caine Mutiny
. (To put that in perspective, Jim Carrey's
How the Grinch Stole Christmas
raked in
$260 million
.)
December 28 – "The Apartment"
While it may be hard to imagine now, The Apartment (1960) actually shocked some moviegoers upon its initial release. The problem wasn't the central premise – an ambitious office worker performs dubious favors in exchange for career advancement – but the actual treatment of it. In the hands of writer-director Billy Wilder and his collaborator, scenarist I. A. L. Diamond, The Apartment became a razor-sharp farce that equated corporate success with immorality. Actually, filmmakers in communist Russia viewed it as an indictment against capitalism. The central character, "Bud" Baxter, is actually little more than a pimp for upper management while the girl of his dreams, elevator-operator Fran Kubelik, is a demoralized working girl whose solution to a failed love affair is to commit suicide. These are not the most wholesome characters in the world and we're talking about the hero and heroine! However, as played by Jack Lemmon and Shirley MacLaine, Bud and Fran not only win the audience's sympathy but also charm them in the process. The most astonishing thing about The Apartment is how Billy Wilder manages to keep the tone light and playful while exposing the worst aspects of Manhattan corporate life, from the drunken office parties to the casual adultery committed by married employees. Despite these controversial elements, the film racked up ten Oscar nominations and won the Academy Award for Best Picture and Best Director of 1960.
The Apartment marked the first time Shirley MacLaine had worked with Billy Wilder and she quickly discovered that her habit of occasionally improvising or changing dialogue was not welcome. For example, she delivered a wonderful take of a scene set in the company elevator but it had to be re-shot when Wilder discovered she had omitted one word of dialogue. Still, Wilder was sufficiently impressed with her acting to cast her in the lead role of Irma la Douce in 1963. The Apartment also won MacLaine her second Oscar nomination as Best Actress (the first time was for Some Came Running, 1958) and she found herself competing against Deborah Kerr, Greer Garson, Melina Mercouri, and Elizabeth Taylor in the 1960 Academy Award race. (She lost to Taylor for Butterfield 8).
Unlike MacLaine, Lemmon was already used to the way Wilder operated, having recently completed Some Like It Hot (1959) for him. In fact, Wilder developed such trust and respect for Lemmon's instinctual gifts as an actor that he gave him the freedom to improvise certain bits like the bachelor spaghetti dinner scene where Lemmon strains the pasta through a tennis racket or some physical comedy routines involving a nasal spray. Lemmon later commented, "Working with Billy I began to understand 'hooks' – those little bits of business that an audience will remember, sometimes long after they've forgotten everything else about the picture. The key was a 'hook.' For ten years after that film, people would still come up to me on the street and say, "Hey, Jack, can I have the key?"
Paul Douglas was originally cast in the role of J. D. Sheldrake, the heel who dumps MacLaine rather than end his loveless marriage. Unfortunately, Douglas died two weeks prior to production on The Apartment and Wilder coaxed Fred MacMurray to take the role. Not only was MacMurray completely convincing as the despicable company boss, his performance was so realistic it inspired an avalanche of hate mail from female moviegoers who begged him to play sympathetic roles in the future. He did just that, signing on as the amiable father figure in the popular TV-sitcom My Three Sons (1960-1972) and scoring leads in Walt Disney flicks like The Absent-Minded Professor (1961).
Thanks for being Classic Movie Fans all year long!

Save
Save
Save